Please check frequently for updated calls to action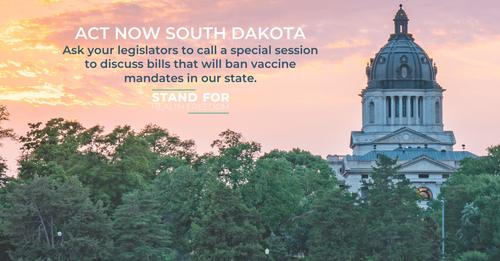 Our Stand
No citizen of South Dakota should face discrimination based upon a medical decision.
We need our state's Legislature to act now by calling a special session to discuss bills proposed to protect the health freedoms of South Dakotans.
The proposed mandates, as they expand, will affect not only health care workers, but all South Dakotans.
Please join us in calling and emailing your legislators, asking them to call a special legislative session to discuss important bills that will protect South Dakotans against proposed vaccine mandates. By clicking the link below you can read and edit the letter as you see fit so that it is a personalized message.
In the Subject please title your message "Call for Special Session"
https://standforhealthfreedom.com/action/act-now-protect-south-dakotans/